Sometimes the girls get a bit bored with the whole wheat breads often used in their lunches. I do want to try and keep the breads healthier, but white bread is just so freaking good. Instead of going all the way and making an awesome white bread sandwich, I made a mismatched one with both wheat and white. Plus, it looks nice, right?
Slicing the bread diagonally and then flipping two pieces over makes it look a little less boring.
They've been loving a leaf of butter lettuce in their sandwiches lately, too...which is making this mom a little happy. They've got turkey, cheese and lettuce on their sammies, apple straws from Trader Joes, and baby dill pickles. The pickles are wrapped in cellophane to keep their juices from contaminating the other foods. The EasyLunchboxes are not leakproof, folks!
This lunch was quickly made...
check out more super quick lunches over at 15 Minute Fridays with Bentos on the Bayou!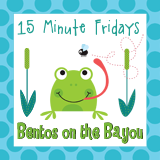 Click the frog above.

If you are interested in any of the products I use, click the affiliate links below, please! Anytime you purchase through one of my links, regardless of what you purchase, I get a small percentage of the sale. It's how lunchy gets paid! Thanks!